Spinning Wheel Problem when Bulk Deleting Published Posts on Facebook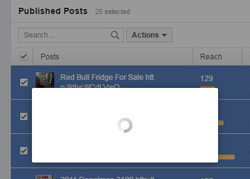 This is a quick 3 minute tutorial for Facebook Page publishers that are having problems bulk deleting published posts from Facebook pages they manage.
I often need to delete hundreds or thousands of posts that were posted on my Facebook pages using DLVR.IT and found that after deleting 25 posts at a time the browser would freeze with the "spinning wheel of death".
I found a workaround through experimenting and found that if I click the back+forward button in the Facebook pager, I could then successfully delete another batch of posts without it locking up on me.