Why Facebook's Ban on Gun Sales is Awesome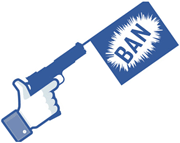 Well, it's awesome for me anyways… I operate a private gun group on TownPost that is for trusted and verified members only. On the weekend I finally unveiled the new "private classified ads" feature that allows members to post ads that are hidden from search engines, crawlers, and non-trusted members. So even thought I received a 48 hour ban from Facebook (not because I sold a firearm, simply because I own a site that posted some links to private firearm sales) I am totally fine with it.
This is actually something I have been wanting to do for quite a while, in fact I started a test site a couple of years ago that was doing quite well in the outdoor niche. The recent Facebook ban on legal firearms sales, however, has dramatically boosted the interest of gun lovers in Canada. Currently it is invite only, and we are relying primarily on word of mouth and riding the coat tails of the TownPost brand recognition we already have in Alberta.
The design is very slick in my opinion, I would rather not post screenshots since it is all private. I revamped the CSS to make it a little more similar to the Facebook groups layout just for those that are looking for something familiar. Meanwhile I hope to create more niche groups within Facebook and perhaps find some group admins that are thinking of escaping "The Borg" (Facebook) and that want to build something on the TownPost platform. Who knows, maybe some of these group administrators will find out that you can actually make money running one of these groups (shh don't tell them).
Finally, some of these old gun groups are trying to transition over to MeWe, some new social media site. What they don't seem to understand is how Facebook as a service is ingrained in the psyche of people, especially the middle aged folks. If there was an app that sold their soul to Facebook or Google they would install it without hesitation. I started my website in 2010 in expectation of people coming off the whole social media trip, however, rehabilitating people that have been on the social media trip requires much more persistence that I would have ever imagined. It also requires a service or website that offers something significantly better than Facebook groups or the other gun sites popping up all over using Wordpress or horrible cookie cutter forum scripts. I believe I have created exactly what gun traders are looking for, only time will tell if I am correct in that assumption.