---
Cheap vehicle classifieds scams claiming to use eBay Motors
I run several local classified websites in Alberta, Canada and recently there has been a barrage of ads being submitted from eastern Canada by criminals seeking to defraud Albertans. Thankfully we carefully screen all ads on our sites to ensure they are never published, however, when searching for the e-mail addresses on Google we find the same culprit successfully targeting Kijiji and other less-policed classified websites (even some newspaper sites).
read more…
---
Amanda Achtman sends a message to an old Alberta friend
I'm not going to say too much about this video, I think it speaks for itself. Amanda has put words to a song, but also a movement in Alberta. There is growing resistance in this province to what is perceived as a moving back to the days of deficit spending. Her Twitter account was unjustly banned, but Danielle Smith and the Wildrose friends quickly came to her defense. Wildrose will no doubt be the beneficiaries of the publicity the video has received, it was covered by Sun News Network, CBC News, and the Calgary Herald.
read more…
---
Alberta PCs taking a hard line since the budget... But why?
So in recent days or perhaps weeks it has been apparent that PCs are taking a much harder stance on the budget and recent shortfall. Between the passing of Ralph Klein, the backlash in the media, from government agencies seeing cuts, and the rising popularity of the Wildrose there has clearly been a shift in focus towards fiscal conservatism.
read more…
---
Twitter is useless for Small Businesses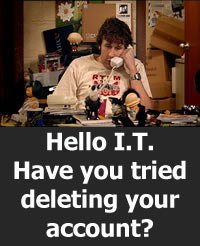 So, I have been using twitter for over a year now and I was getting all stressed out about Twitter filtering me from search (where your tweets cannot be found by others). This is actually something that started about 6 months ago but #twitter @support? is non-existent. And after multiple attempts at following their help and repeated attempts to get help from Twitter I realized this was futile. Honestly, I think their support team consists of a 41 year old living in his mom's basement, that gets annoyed whenever an e-mail comes in (I'm thinking of Roy from IT Crowd...
read more…
---
My Letter from Ralph Klein as Premier
Ralph Klein was the first politician that got me remotely interested in Alberta politics . He was the first political leader I ever witnessed on TV talk like a normal human being with convictions. The reason I paid attention at all was the many liberal teachers I had telling us how terribly cruel he was.
read more…
---
Buyer Beware - VistaPrint Website Review
Thinking about a DIY website? Considering building your own site with VistaPrint? Here are a couple of factors and warnings to consider before you try this approach.
Consideration #1 - Cost VistaPrint currently charges $15/month (plus add-on fees and potentially a setup charge). That means you are paying a minimum of $180/year to essentially setup your own website from their pre-built templates. As many monthly billing companies love to do they may just jack your prices up by 1 or 2 dollars every few months.
read more…
---
Progressive Spenders
The Progressive Spenders party is a new unofficial political party in Alberta
Think Bigger.
Bigger Deficts: Deficits have a bad reputation, we seek to restore Alberta's short fall to a more respectable level on par with the rest of the bleeding world.
read more…
---
Facebook Ads are a Waste and perhaps even a scam.
Update: I finally had a response that wasn't canned text, Facebook Payment operations admitted that there is a "glitch" sometimes when you click the link in the e-mail. Even after this admission they are still unwilling to do anything at all. Facebook is keeping the money it stole, as a result they lost a customer that spends a good amount on other ad networks and I have managed to talk several of my clients out of using Facebook ads.
read more…
---
Ralph Klein's Legacy in Alberta
Former Premier Ralph Klein is not a politician you hear of very often these days, it seems that conservatives are shy to talk about his years in office and liberals are happy to forget him. But I honestly think there is a glaring omission from the record of history that may have been missed.
read more…