Facebook Ads Review and Coupon Scam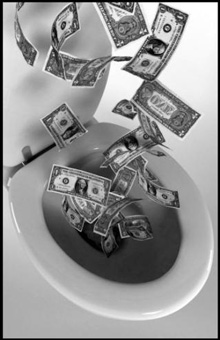 Update: I finally had a response that wasn't canned text, Facebook Payment operations admitted that there is a "glitch" sometimes when you click the link in the e-mail. Even after this admission they are still unwilling to do anything at all. Facebook is keeping the money it stole, as a result they lost a customer that spends a good amount on other ad networks and I have managed to talk several of my clients out of using Facebook ads.
"The coupons are set up to automatically activate, however every once and awhile it doesn't. For these situations, there's a coupon code in that promotion email and embedded in the URL link you're taken to when you click on the link in the email. Any of the above will assist me. Unfortunately, without the email, link, or coupon code, I'm unable to take any further steps. Most email accounts save deleted emails for a period of time; if you can locate any of this information I'd be happy to activate the coupon manually and refund the charges.
Cameron
Payment Operations
Facebook"
Q: Are Facebook ads worth it for a small business?
A: Short answer - No.
Facebook seems like it would be a reputable company considering it's size, but the size itself may be the biggest disadvantage.
Facebook Ad Coupons are a bait and switch scam.
Be very careful when you get an e-mail from Facebook about "$50 free Advertising".
What this e-mail meant to say is, "You might get $50 free advertising if you figure out how to use it". It's a bait and switch scam essentially, if you click on the link it takes you to the ads manager but fails to inform you that there is a dog and pony show you need to follow in order to activate your coupon. You actually have to hang on to the coupon code in the e-mail and set it up as a funding source under billing. But they don't tell you this... Why? because they would rather just take your money silly. There is no prompt or pop-up letting you know that this step is necessary.
You pay forever - It is also worth noting that there is no time limit on the ads by default, so after they steal the $50 you thought you were getting free they keep charging you into the future forever unless you remember to turn it off.
Facebook Customer Non-Service So we thought no big deal, we'll just contact Facebook Ads customer service and they will fix it up. Forget that, after 5 submissions (4 to the appropriate team and 1 to another team trying to get help) all we get is form e-mails telling us to respond with out coupon code. Then we reply explaining we do not have one but that is where the conversation ends. Incredibly they ignore the fact that we clearly stated in our submissions that we DO NOT HAVE the coupon code.
Facebook Ads vs Google Ads
Absolutely no comparison whatsoever. Google ads are cheaper, more honest, more effective, easier to target demographics based on search terms and best of all Google doesn't appear to stoop to Facebook's level of using bait and switch scams with so called "coupons".